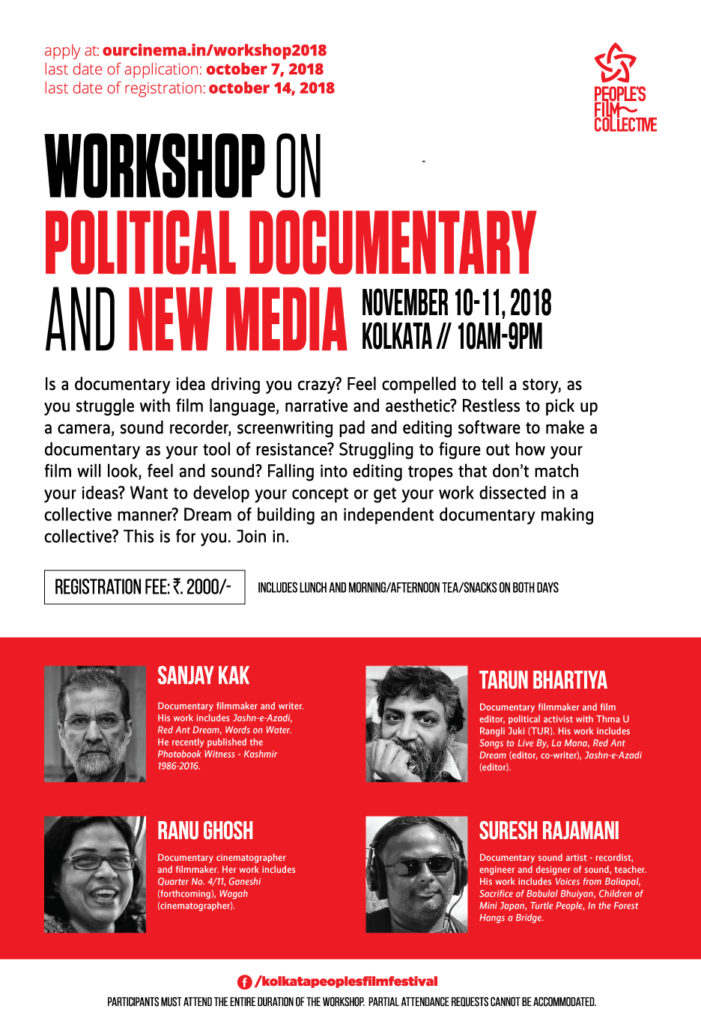 Workshop on Political Documentary and New Media
10-11 November 2018

10 a.m. to 9 p.m. // Kolkata (Venue to be announced)
Organised by: People's Film Collective
TIMELINE
Last Date for Application: 7th OCTOBER 2018
Intimation to selected participants*: 10th OCTOBER 2018
Last Date for Registration: 14th OCTOBER 2018
Registration fee: Rs. 2000/- (includes lunch, stationary and morning/afternoon tea/snacks on both days)
ABOUT THE WORKSHOP
Is a documentary idea driving you crazy, waiting to burst forth on the screen? There is a story that you feel compelled to tell, but are you still grappling with the film language and aesthetic? Are you moved by the injustice and oppression and feel restless to pick up a camera, a sound recorder, a screenwriting pad or editing software to make a documentary film as your tool of resistance? Are you struggling to figure out how your film will look, feel and sound? Are you falling into standard editing tropes that don't quite to justice to your film-idea? Are you dreaming of collectivising independent documentary film making and film screening?
If yes, do join in. Registrations are open for an intensive documentary workshop for independent filmmakers/ people who are deeply interested in making documentary films, moved by the urge to make political interventions with films. We want to imagine this workshop to be the beginning of many such workshops and shared spaces of creativity and political cinema-work where our community of independent filmmakers can come together, exchange and learn from each other's works and can also think of working together on collective filmmaking practices and forming new media collectives. Possibilities are endless…
*Participants must attend the entire duration of the workshop. Partial attendance requests cannot be accommodated.
*There is a limit on number of participants. Selection of participants will be based on a good match between the participants' experience/expectation/approach and the workshop's orientation.
REGISTRATIONS OPEN!
APPLY HERE: