'Aunty, the last time you had come you had shown us so many films. You'll show us films this time also?'
We were greeted with smiles and hugs at Peyarabagan on Beltala Road. Many of the children remembered the films we had shown the last time we were there, which was so heartening, given that six months had passed!
After everyone had settled down, which was a task in itself because there were more than a 150 children, we played a short game. The children had to imitate each action I did. I tried actions that were similar to those in the short film
Zoo
, by Bert Haanstra, since it was the first film we were going to show. So there was yawning, stretching, scratching and so on.
Following
Zoo
, and a short discussion on who was imitating whom (some children said the humans were imitating the animals, some said it was vice versa), we screened
Little Terrorist
, directed by Ashvin Kumar. This short film tells the story of a boy who inadvertently crosses over from Pakistan into India and how the family who rescues him shaves his head, leaving only a tuft of hair—signifying that he is Hindu—thereby protecting him from the border police. The children were engrossed, some whispering: 'Will they shoot the boy?'.
Most of them immediately understood that the reason why the hair was cut was religion—and how physical appearance was taken as an indicator of religion. What amazed me was how the children immediately identified the mines in the sand—but I suppose children are exposed to so much these days!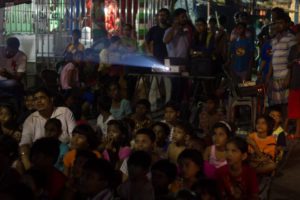 After
Little Terrorist
, we screened
Two
by Satyajit Ray. This film shows a game of one-upmanship between a well-to-do boy and a boy living in a shack.
' Aunty, the rich boy was feeling jealous of the poor boy. He wanted to show that he had nicer toys.'
' In the end, it didn't serve any purpose.
Kono laabh holo na
.'
The next film was
A Chairy Tale
by Norman McLaren and Claude Jutra. ' Have you ever tried to sit on a chair and the chair didn't let you?', I asked the children. No, they said in unison, looking at me quizzically. This film shows, through stop motion animation, a situation where a man wants to sits on a chair, but the chair simply won't let him. After various attempts, the chair only lets him sit on it, after it sits on him.
Next on the list was
Pistulya
, a film by Nagraj Manjule. I explained the story to the children before we started the film as it is in Marathi. I think the children were able to relate to the film, comprehending immediately that the boy stole the uniform for his sister, so that atleast she would be able to attend school, even if he wasn't able to. They even related the film to
Chanda ke Jootey
, which we had shown them before.
After this, we screened a brief segment from
Mahapurush
and the boxing scene from Charlie Chaplin's
City Lights
. Both these highlight belief in superstitions. After the segment from
Mahapurush
, I asked the children what they thought. Many said that perhaps the Baba shown in the film was fake. Some said that they knew people who believed in holy men. I think that this is a discussion that needs to be continued. Children should be able to think critically about whether those who claim to do magic and claim to be holy men are really to be believed or not. I hope that showing these films has sowed the seed of thought.
The children at Peyarabagan are a wonderfully intelligent lot. This is the second time that Civilian Welfare Foundation, who run a school in the neighbourhood, has invited us and each time I wonder at the responses we get.
Report: Paroma Sengupta
Photos: Kunal Chakraborty